I am a certified bibliophile. I love books. I own hundreds of books. I covet books I don't own. I love to shop through thrift stores' stocks and find little gems. Most of my books are definitely second hand books, but I find that makes them a treasure, like a nugget I found in a pile of charcoal.
But I L.O.V.E. a new book. The thought of being the first person to crack it open, to feel the silky new pages, to read the dedication and forward... oh I love it all. I rarely buy a NEW BOOK because I can almost always find it used and (obviously) just as awesome at the thrift store. But... sometimes I just cannot stand it. I fall for the love of a beautiful book on first sight.
So my latest books are both of the NEW kind. Glossy and ready to have me break them open.
I bought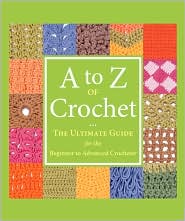 The A to Z of Crochet is quite simply beautiful. It is a straight up guide to crochet with the most awesome step by step photographic guide to each and every crochet stitch. If I didn't know how to crochet, I could definitely learn from this book. The photos are so nice and so clear. The instructions are clear and easy to understand. I am a pretty good crocheter and this book has so, so much to teach me. There are the neatest things in it. Have you ever heard of broomstick crochet? Or Irish crochet? Oh I cannot wait to start trying each of these new stitches. Ah, I am in love.
Creepy Cute Crochet is also adorable and fun and I cannot wait to make a few little monsters for the upcoming Halloween holiday. You know the feeling of fresh love. So awesome and sweet. I'm going to go now and fantasize about how we will spend our first few days together.